Home
Live Agent
1 Followers
5 DANGERS OF AUTUMN IN PUPPIES The fall is a wonderful time filled with colour, new smells and perfect dog walking weather. Puppies love autumn, the cool refreshing air feels amazing on their coat and all those new smells are wonderful for exploring! But, with everything new there always comes a few hazards too. While we want our puppies to have fun exploring and learning, there are some ways to make sure they stay safe during their first autumn. Checkout our list of five dangers autumn can present to puppies below... 1. Acorns Exposure to acorns in dogs is common in the autumn and winter. The toxic ingredient is thought to be tannic acid, which can cause damage to the liver and kidneys. Signs include vomiting, diarrhoea, abdominal pain and lethargy. Ingested acorns can also cause an intestinal blockage. 2. Mushrooms and Toadstools Some mushrooms are highly toxic to dogs but even fungi experts (mycologists) find it difficult to tell between them. The best bet is to ensure you keep all of them well out of your dog's reach. 3. Fallen Leaves Piles of leaves can develop bacteria and mould. If your dog ingests these it can lead to gastrointestinal upsets. A great way to avoid this is to regularly rake and dispose of any piles of leaves you have building up. Or, rake the leaves to a place where your puppy doesn't have access to. 4. Seasonal Canine Illness Cases of this mystery illness are generally seen between August and November. Seasonal Canine Illness (SCI) can affect dogs of any size, shape or sex and it causes dogs to become very ill, very quickly after being walked in woodland. The most common clinical signs are sickness, diarrhoea and lethargy, typically experienced within 72 hours of walking in woodland. If you suspect your dog is showing signs of SCI then contact your vet immediately. This is still a very new and unknown illness, with the first cases appearing in 2009. Talk to your Veterinarian or contact MaxCare's Vet's for more information. 5. Seasonal Allergies Just like humans, dogs can present allergies during specific times of the year too. During the Autumn months, your puppy may start to present allergic reactions to different pollens or leaves. If your puppy is showing signs of allergic reactions, be sure to speak with a Veterinarian on ways to treat and prevent it. For more information on seasonal allergies head to our blog post on allergies. Whether it's your pups first Autumn or their tenth, it's important to be aware of the different hazards that can be present so you know what to avoid. The Autumn months are perfect for enjoying quality time with your puppy. Don't let these hazards stop you from doing that! Just be sure to educate yourself and be aware of your surroundings. Environmental allergies in dogs are more common than one may think and they're actually more common in dogs than in cats, know more about allergies on https://www.maxcare.pet/post/allergies-dogs . If you have any queries don't hesitate to contact us at https://www.maxcare.pet/ .
MEET ELLIE THE GREAT DANE In our third ever episode of Toby Talks we sat down with the owner of a great dane to see what their experience was like raising such a gentle giant. We've summarized the conversation to give you the details along with linking to expert opinions on what we covered in our conversation. If you have any questions or concerns about raising your great dane, be sure to get in touch with one of our Veterinarian's or behaviour experts and we will be sure to help! How are you doing today? I'm good I'm good thank you. Awesome well thank you so much for taking the time to chat with me today… obviously I need to know what the puppy's name is… Her name's Ellie. Is there a sub breed of Great Dane she falls into? She is an American great dane, there is also the European great dane which can be larger and have the droopier jowls. Dog Time does a great overview on the great dane breed and their characteristics! Okay so Ellie's not too tall, how tall is she? Well… she comes up to my waist, so when we say not too tall she's about three feet.. Wow… so how much does she weigh then? We haven't weighed her in a while, but last time we checked it was 120 pounds and when you picked her out… how did it happen? So we got her from a breeder in Sarnia, Ontario. My wife's dad fostered dane's his whole life so she's always wanted one. We also have a dachshund puppy and she's always thought the contrast was hilarious there. Right on… and did you pick her out specifically? We actually just specified that we wanted a female and preferably black… and we got one that's all black with a white chest. Beautiful and she still has her markings on the chest then? Yeah she kept all her colouring. Okay cool, so you've picked out your puppy and brought her home… describe your first night back home with your puppy. Our first night went pretty well. She was pretty timid considering a puppy coming home for the first night. So we kept a crate beside the bed, we didn't do the traditional crate training but more left it there for her with the door wide open. She took to that pretty quickly and I think part of that was just being timid, so we got rid of the crate pretty quickly altogether. Now she just uses a bed on the floor beside us. Unfortunately with our dachshund we tried the same thing and it didn't work as well. So he sleeps in our bed now... What about potty training, how did that go? She did really well Within the first week or two we were pretty much accident free. She knew what she was doing pretty quickly from the time we got home until the time we were done training. That's impressive! Did you use any tricks? No just praise and treats. She's very food motivated, my wife and I joke that she fits the personality of Scooby Doo to a "T". She loves food and is terrified of everything that moves… If you're having difficulty house training your puppy, checkout our 5 tips to house training! That's hilarious, what about being able to hold it through the entire night? She did that very quickly too. Pretty much as soon as she was potty trained she was going through the night. Do you think training was easier with a bigger dog? Definitely, honestly she was much easier to train in all aspects compared to our dachshund. I mean she's still a puppy so she still gets excited and things, but as far as taking commands and potty training, ten times easier than our dachshund. However, dachshunds are known to be quite stubborn. It's important to note that this is not a professional opinion, but merely an opinion stated in interview. Any dog can pose difficulties when training no matter the size of dog or breed they are. So what's next for Ellie, any more vaccinations or vet visits coming up in the near future? Well, she just went through her first heat a little while ago, so we're going to be getting her spayed this month. Plus, because great dane's are bigger chested, there's a procedure called tummy tacking where they sew the tummy to the stomach making it impossible to flip their stomach. It also makes them less susceptible to bloat which is common with great dane's. Tummy Tacking is the common term for a gastropexy. Read more about the procedure and whether your dog should get it done. Okay wow, so I'm assuming you have to watch how fast she eats? Yeah, we use a slow feeder that kind of makes her lick food out in small bits. Then we'll also add some water to it to really slow her down. Slow feeders are recommended to slow down a dogs eating. Quick eating can cause lots of health issues including bloat, diarrhea and vomiting so be sure to monitor how fast your pup is eating. So there you have it... a quick intro on what it's like to own a Great Dane! If you have any more questions you'd like answered about great dane's, or any topics you'd like us to cover next, tag us in a post on social media and use the hashtag "#tobytalks" and we'll get that included in an upcoming episode! Disclaimer: The opinion's expressed within this interview are the opinion of the interviewee and not of MaxCare. It is important to note that our interviewee is an owner of a Great Dane but not a registered expert of any means. This is solely for entertainment purposes. Good luck with your puppy training, and if you have any queries about your experiences in pet parenting, feel free to contact us on https://www.maxcare.pet/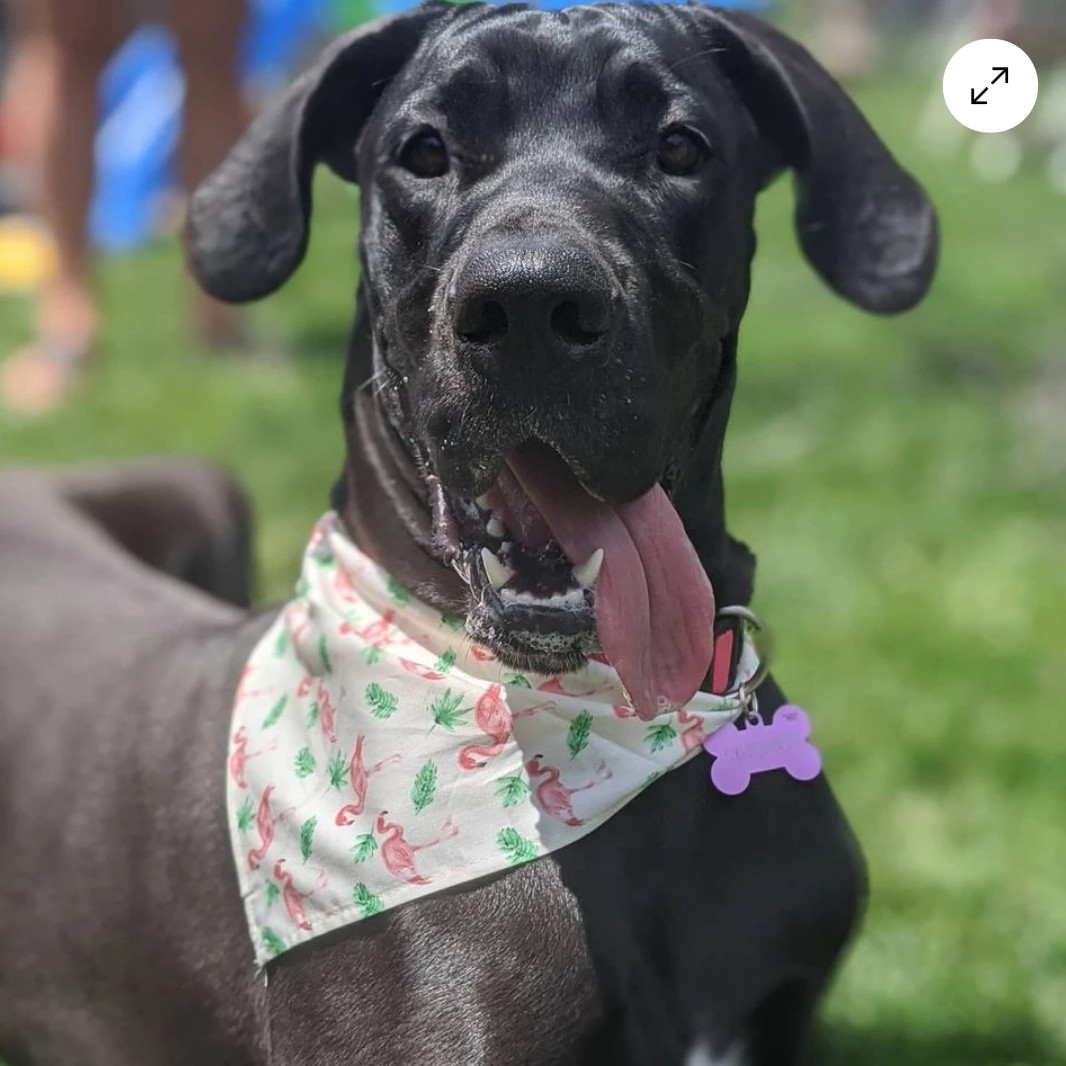 TOP 5 DOGGY DONUT RECIPES Today is National Cream Filled Donut day and, of course, donuts were shared between the MaxCare team... But then we realized our pups were being left out! So, we ran to the internet for some recipes and advice on making donuts for our doggos. Now that the day's almost over and you're about to head home and celebrate National Cream Filled Donut Day too, we decided to put together a list of the top 5 Doggy Donut recipes we could find in order to get your dog in the spirit to. Yes... we know they're not cream filled, but close enough right? So... without further ado, here are the top five doggy donut recipes the MaxCare team could find on the web! Disclaimer: This article includes links to recipes which may have ingredients your dog is allergic too. Along with this, certain brands of peanut butter and other ingredients contain chemicals which can be dangerous to dogs. Always consult with the ingredients list and know what your dog can and cannot ingest before making any recipe. If you have questions about what your puppy can't eat reach out to the MaxCare Veterinarians for more advice! 5. Duke's Doggie Donuts Peanut butter and Bacon are the two main ingredients that make the flavourings of these magically delicious donuts! To get the full recipe, head here. 4. The Frosted Sprinkle This next recipe is actually quite easy and uses "dog treat" icing as the main flavouring. Some may say this is cheating... but hey, our pup's thought it was pretty good! Find dog treat icing examples and the full recipe now! 3. The Pumpkin Donut Our third recipe uses, as the name states, pumpkin as flavouring. Pumpkin is amazing not only because most dogs love it, but because it's great for their stomachs too! Pumpkin can help sooth upset stomachs in puppies, just make sure you use natural pumpkin, not flavoured fillers. Check out how to make these delicious pumpkin donuts now. 2. Apple Cinnamon Donuts Our puppies absolutely love the Apple Cinnamon Doggie Donuts we put together for them. Definitely one of the top donut recipes we found. Although this recipe does take up a bit more time than some of the others, it's definitely worth it to see how happy it makes your pup. Check out the recipe here. 1. Strawberry Doggie Donuts Finally, the best recipe we found online was the Strawberry Doggie Donut Recipe... This donut includes everything! Banana's, strawberries, honey (we even added some peanut butter to the recipe to really throw it over the edge). If you truly can't decide which recipe to make for your puppy, we highly recommend this one. There you have it, the top five doggy donut recipes that we could find on the web! Be sure to try out one of these recipes for your puppy tonight and let us know which one you made by tagging us in a post on social media with a picture of your creations!
5 Facts you Didn't Know about Golden Retrievers Golden Retrievers are one of the most popular breeds of dogs in the world... Thinking about it, you probably know at least one person in your life that's been the proud owner of a Golden Retriever. You may even be one yourself! Here at MaxCare, our story started with a Golden Retriever named Charlie and our love for him and his wellbeing. So, to celebrate what an awesome breed they are (not to downplay all the other fantastic breed there are) we have put together a list of five facts you may not know about Golden Retrievers! 1. Golden retrievers are featured in movies... A LOT! From classics like Homeward Bound and Airbud to the new A Dog's Purpose Golden Retrievers are consistently being used in movies. This is due to their extremely trainable nature and consistent performance over time. This is also why they are such good guide dogs. Remember, that even though certain breeds are known to be easily trainable doesn't mean that every dog isn't different. All dogs pick things up differently and it's important to be patient, even if your retriever doesn't seem to be catching on right away. 2. There are actually three different types of Golden Retrievers Along with coming in three different colours: light golden, dark golden and golden. Golden Retrievers also come in three types: Canadian, American and English. The differences between each type are extremely subtle and they all fall under the same breed. If you want to know which type of Golden Retriever you have, head to Totally Golden's Different Types of Retriever's article to find out the exact differences. 3. Despite originating in the 1850's they weren't classified as a breed until 1920 Golden Retrievers were first bred in 1850 by the Scotsman Dudley Coutts Marjoribanks, the Lord of Tweedmouth. At the time, they were bred as hunting companions and by 1908 they were presented at the U.K's Crystal Palace. But they were known as as "flat coats - Golden" at the time and not what we call them today. It took until 1925 for the American Kennel Club to recognize the Golden Retriever as a breed. 4. Golden Retrievers are a cross of Retrievers and Water Spaniels The first Golden Retriever was created by crossing a Water Spaniel (pictured above) and Retriever, then breeding their offspring with Bloodhounds, Irish Settlers & the St. Johns Water Dog. This was done in Scotland during the mid 19th century. They were bred to be working dogs and still consistently show this trait through working as guide dogs, detection dogs and in search and rescue missions. 5. Golden Retrievers are known to save lives Orca (pictured above) was a Golden Retriever guide dog that was awarded the PDSA Gold Medal, which is the highest award a non-military dog can receive. This was due to Orca's acts to save his handler's life on a rainy day during a life threatening accident. On 18 May 2003, after they had been partnered for two months and Orca was 17 months old and only just out of training, Cheryl's powered wheelchair struck an obstruction on a country footpath near Heslington, pitching her some 12 – 20 feet (3 – 5 metres) down an embankment into a drainage ditch. The lower part of the ditch was water-filled to between a foot and waist level, and Cheryl became trapped in the water with the full weight of the 300 pound wheelchair pinning her across her legs. By chance, it had landed in a manner that did not crush her, however it held her trapped in the water, with her head facing downwards and her legs pressed into the thick mud at the bottom. Orca sought to descend to help her, but after 5 minutes was finally persuaded to leave and seek help. It began to rain very heavily, a risk given that Cheryl was in a drainage ditch. A long time later he returned to Cheryl, but he was still alone. It later transpired that he had found a passer-by, but the person approached had not realized Orca was an assistance dog seeking help in an emergency, and had tried to lead the dog home by his collar, to report him as a stray. Assistance dogs are trained to follow humans, and Orca had evidently reached the exceptional understanding that this person was not going to follow him or provide help, and that this was accordingly an occasion to break the rule. Orca had had to pull out of his collar and avoid being led, to do this – an act which goes against all normal assistance dog training. Having checked on Cheryl, Orca left her to search for help a second time. By this time it was "pouring with rain" and the weather had deteriorated to the point of hail, placing her at risk of drowning or hypothermia (death from exposure and cold). It took Orca around two more hours, and much perseverance, to find help, and considerable initiative to persuade the man to follow him for the entire mile-long walk back to the ditch. The person he found was a passing jogger, one of Cheryl's neighbours, until then unknown to her. Cheryl was already suffering hypothermia and drifting in and out of consciousness, when they finally arrived. Cheryl was rescued and treated in hospital for hypothermia. The rescue services considered that Orca's "remarkable skills and unstinting devotion" had without question saved her life. The ditch was remote, the weather very bad – both cold and raining – and the path not commonly walked. Story sourced from the Orca (Dog) Wikipedia Page If you ever have any questions or concerns about your Golden Retriever, feel free to get in touch with the MaxCare vets or behaviour experts at anytime and they can assist you!
TYPES OF PLAY BEHAVIOUR IN CATS Play is a very important part of the feline world and kittens need the opportunity to play to learn vital adult skills both for communication and for hunting. From a very early age, they play with their littermates and with objects that they discover within their environment. Indeed, play provides the ideal opportunity for kittens to explore and investigate their surroundings. Young kittens play using chasing and pouncing behaviors that seem to have their origin in predation. We're all able to recognize when kittens are playing, but have you ever wondered what the purpose of each type of play is? MaxCare's Resident Veterinarian Dr. Jogeswar breaks down the three types of feline play. The Three Types Play can be grouped into three categories, which are locomotory, social, and object behavior. In kittens, locomotory play may be social or solitary and includes running, rolling, jumping, and climbing. Social play includes wrestling, rolling, and biting with conspecifics (although young kittens will often accept human hand as a conspecific and play as if it were another kitten, especially if the hand responds appropriately). Object play is the variety that involves an object, whether social or solitary. Development and Characteristics By 4 weeks of age, kittens engage in social play with their siblings and mother, which continues at a high level until around 14 weeks of age, with the peak period of social play occurring between 9 and 14 weeks of age. Kittens often vocalize during their play fights, and as the intensity of the fight increases, so does the intensity of meows produced. At an early age, the social play between kittens can be quite rough, with bites and scratches from siblings sufficient to induce sequels of pain. As kittens experience such bites they learn to reduce the intensity of their attacks on others, since inducing pain in others will invariably lead to a painful response. Kittens then learn to reduce the intensity of their attacks by inhibiting the latter part of the attack sequence. This inhibition induces an arched effect in the kitten's body as the front legs come to a halt during the attack sequence. Adult cats will sometimes respond to playful approaches by kittens but social play usually occurs between kittens. Social play between adult cats is rare and may lead to fighting, but it can also stimulate aspects of the predatory sequence, such as stalking, chasing, pouncing, and neck bites or object play, with the conspecific's body replacing the object. Object play includes pawing, stalking, and biting of objects and is commonly observed in kittens and many adult cats. Such play can be regarded as the simulating aspects of the predatory sequence, and cat owners can often provide a variety of 'prey-like' toys to allow their pets to indulge in such activities. Object play and locomotory play behavior increase from around 6 weeks of age and they reach a peak at around 18 weeks of age, after which these play types will start to decline. Object play may also be directed at apparently imaginary objects since kittens can often be observed pouncing on, pawing at, or chasing items that are invisible to us. There are a few behavioral issues that arise out of overexuberant and inappropriate play. Some examples are cats that rambunctiously damage the household, those that swat at or pounce on the owners (sometimes escalating into bites and injuries), and those that grasp, nip, bite, or swat at the owners throughout the night. If your kitten is crossing the line with play behavior, the feline behavior experts with MaxCare can help correct most of the issues. Sign up for a free MaxCare account and give your kitty the gift of great health/wellness by connecting with Licensed feline experts on the app!